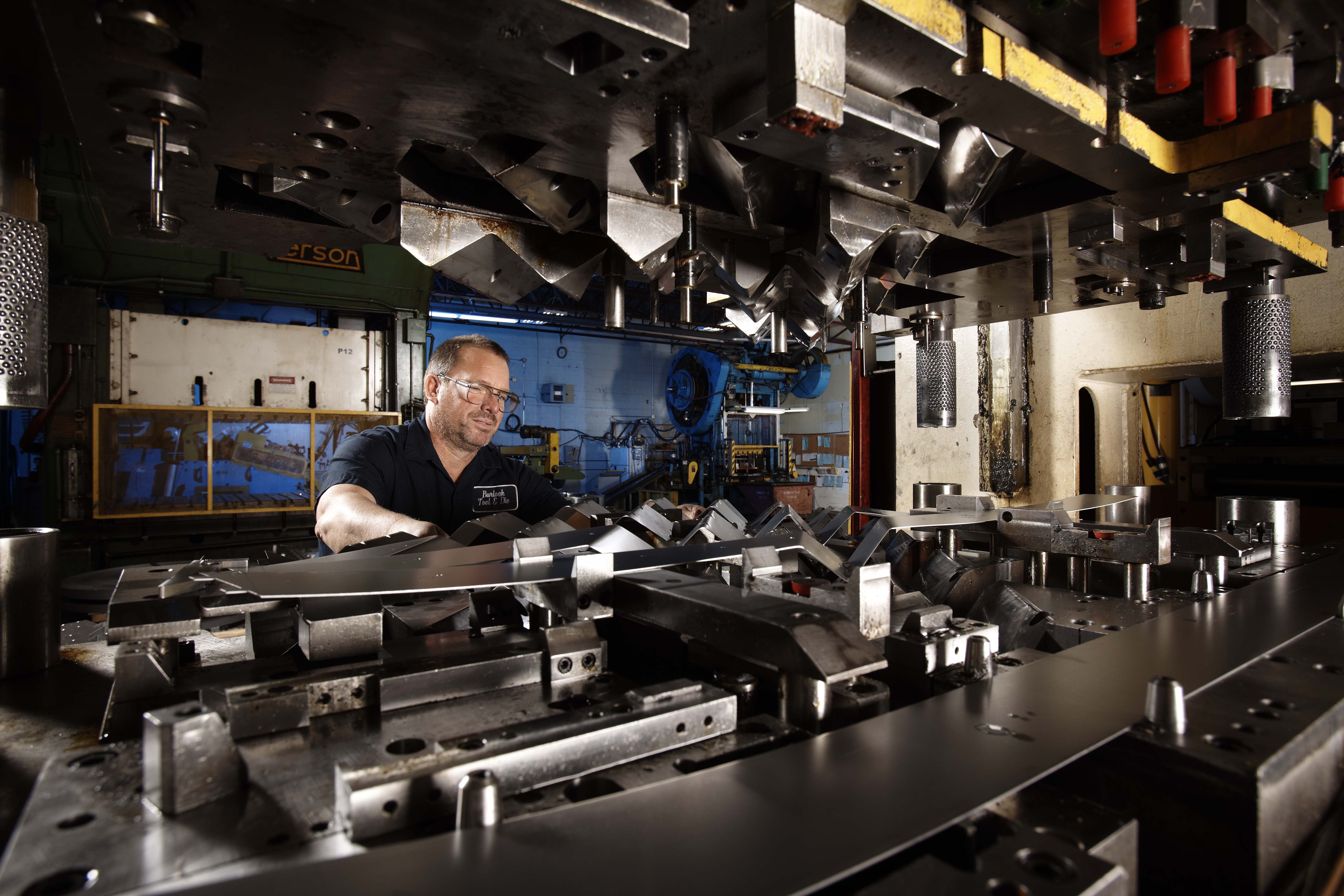 Custom Metal Stamping Services
Maybe your die is small and intricate. Perhaps you're due for a program transfer for an order that requires round-the-clock production to meet a tight deadline. Or, you need a precise part with tight tolerances that requires end-to-end customization by a single provider.
Regardless of the reason for tapping in a metal production stamper, there's a certain skill level you should expect for your order's production. An experienced tool and die maker of 4+ decades, custom metal stamping is second nature to us.
Pairing precision and accuracy to meet high-demand applications, MAINWAY Metalworks metal stamping services meets all your production needs -- even if you're coming to the table with a die made by someone else.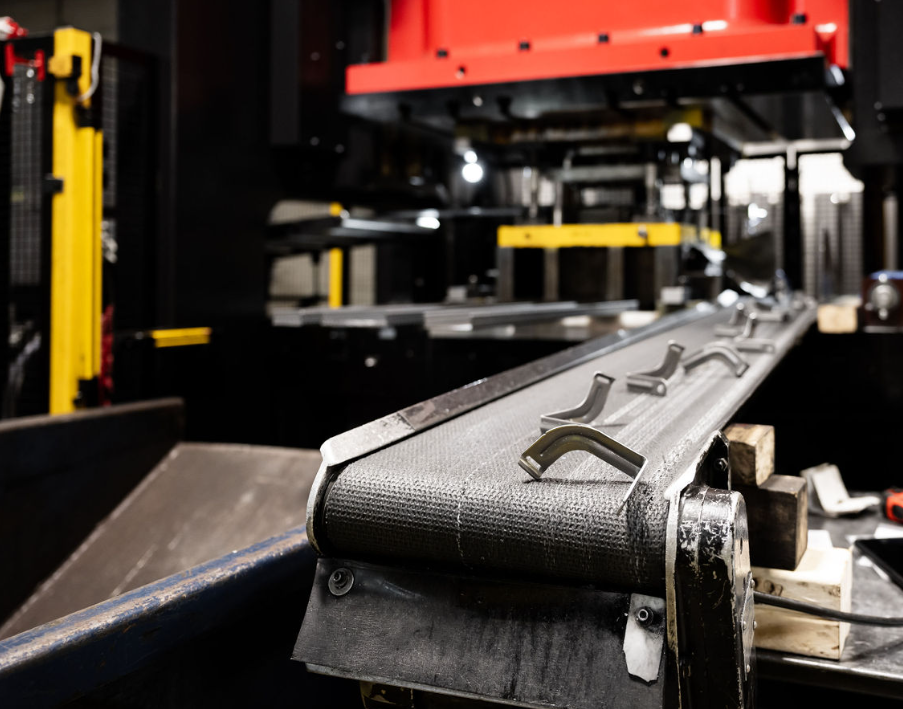 MAINWAY Custom Stamping Capabilities
As no two projects are the same, we offer full-service custom stamping solutions supported by a wide range of machinery that's designed to bring efficiency to your order.
Our stamping machines work within a capacity range 40-800 tons. Our largest bed is 72" front-back and 132" left-right; the largest bed with a feedline is 60" front-back and 96" left-right.
Through our repertoire of stamping capabilities -- which includes mechanical, servo press, and direct drive -- we can work with:
Progressive dies
Line dies
Draw dies
Deep draw dies
Transfer stamping dies
Hand transfer dies
Compound blank
Fine blanking
Whether you're in the automotive industry or manufacturing major appliances, we specialize in both low- and high-volume production runs, capable of handling a broad range of specialty materials regardless of run size.
Servo Press for Improved Efficiency, Quality
With more than 20 stamping presses at the ready in our facilities, there's one that stands above the rest. Commissioned toward the end of 2022, our 300-ton direct drive Servo Press – and its high-speed feed line – take production stamping to the next level.
Boasting a bed size of 68" x 35", its unique heavy-duty frame combined with the servo-driven ram provides high-accuracy stamping even in high-strength steels. The Servo Press offers a wide range of motion patterns, including pulse, double strike, and even slowing the head at the point of contact to improve a draw.
In addition to higher quality parts, customers are able to receive finished pieces that previously were problematic or even impossible to produce via mechanical stamping.
Precision Die & Stamping: Metals
A metal stamping company that's no stranger to working with high-performance and exotic metals, our completely in-house metal stamping department provides quality, on-time parts at a competitive price and made to spec.
Our metal fortes include working with:
SteelAluminized & Galvanized
Aluminum Hybrid Grades & Extrusions
Making Your Project Happen
Focused first on customer demand and industry requirements, MAINWAY meets your project on its terms.
Our team of engineers boasts a wealth of experience and knowledge to design and fabricate a die for your project that delivers on performance and output. The same applies to working with a die you provide us to bring it up to working order and standard. And once we've done an initial run stamping your part, our team works to fine-tune the die so it's ready for immediate integration into your greater assembly.
Don't have the immediate capacity for metal stamping with your die? We're happy to step in and complete your stamping run as if it were our own to keep your production schedule on track and eliminate adding another service provider to your supply chain.
We also offer value-added metal fabrication services such as:
Spot welding
Robotic weld cells
Press insertion of studs and nuts
Toggle locking
Surface coatings
& more
Why MAINWAY | Stamping & Tool Design

Expertise
You'd be surprised how often a little engineering tweak improves the durability or scrap efficiency of a component. Our designers consider all aspects of your value chain and sweat the small stuff so you don't miss an opportunity to streamline production.

Prototyping & Testing
We'll make you a prototype so accurate, you can't tell it apart from the real thing – no matter how complex or urgent the request. We test and certify all our dies in-house, and provide total QA and PPAP approval.

In-House Everything
Unlike most other stamping shops and design facilities, we keep all services in-house – from design to finished part. An "in-house everything" approach helps you control the lead time and quality of your custom metal stamping parts.

A Full Stamp & Die Company
If you need a turnkey solution, we offer a full production stamping facility, die fabrication, value-added services, and die repair.

The Relationship
Say you need a great stamped part design … are you satisfied only talking to a sales rep? At MAINWAY, we put our entire project team within your reach, with designers and fabricators proactively communicating milestones and recommendations.

Industry Experience
Come to MAINWAY when you need sustained quality in heavy-duty situations – we're talking automotive, appliance, military, trucking, construction, and agricultural jobs. We're most famous for heat transfer components, but excel with any type of machine design.
Brands
Since we also stamp in-house, we invest in only the top makers of die-making machines and software (and we're flexible on which software you'd prefer). We rely on top press brands like Dahlih, Robocut, Hartford, Blow Press, and others.
Tonnage
Thanks to the size and diversity of our array of presses, we can match your specs and material properties to the right machine.
Feedlines
Our systems run large volumes at maximum efficiency. What's more, they provide enough dimensional accuracy to meet tolerance requirements for aerospace, auto, and other mission-critical industries.
Metals
We build metal stamping tools in a variety of steel types to suit your demanding application. We understand exactly how your end product's high-performance and exotic materials will hold up against our tooling.
Bed Sizes
MAINWAY's largest bed is 72" front-back and 132" left-right. Our largest bed with a feedline is 60" front-back and 96" left-right.
Press Sizes
Your operation is all about efficiency, so our presses specialize in cutting maintenance and energy costs.